Today I decided to make one our favorite meals. It is also one that you can completely change the taste easily depending on what you are in the mood for. I don't really have name for it so we just call it by the name of the meat used.
Carne
Picada
2.5 lbs of

Carne

Picada

meat (I think it's just skirt steak sliced super thin)
1 container of mushrooms, sliced
1 onion,

chunked

3 small

yukon

gold potatoes, cubed (med. cubes)
I keep a shaker on the counter with the following mixed up in it:
salt
pepper
onion powder
garlic powder
paprika
Heat your skillet to med-high. Drop in a table spoon of bacon grease. Throw in your onions and cook until starting to brown.
Once the onions have started to brown, toss in your mushrooms. (I used jar mushrooms today. The fresh at the grocery the other day looked nasty.)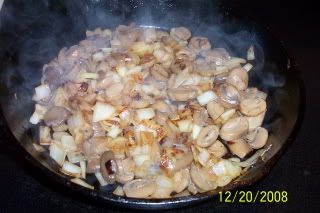 Once the mushrooms are cooked down some and starting to brown up a little, add your cubed potatoes.
Once you get them all mixed together and the potatoes coated with the bacon grease, add about 1/4 cup of water and cover until the potatoes are tender. Once they are tender, season and remove mixture from pan and set aside.
In the same pan, add a tablespoon of bacon grease. Then break up the
carne
picada
meat as you add it to the pan. Season and cook until the meat is no longer pink and it starts to brown slightly. Be careful though, if you cook it too long, it will get tough.
Once the meat is done, add the veggie mixture back to the pan and mix in. Turn out in serving bowl and your done!
I like to serve this with some home made tortillas, sour cream, tomatoes and lettuce. Or sometimes, like today, I'll just eat it from a bowl.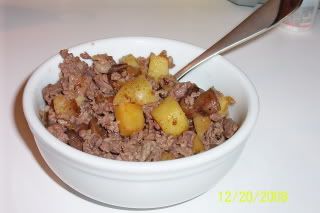 There are so many variations you could make with this. One we really like is to sub the potatoes for a bag of broccoli slaw and once it is all done cooking, pour some
Hoisin
Sauce or
Terriaki
Sauce over the top and heat through. Serve over rice.