I made a batch of this last week and we really liked it. I decided to can a batch so we can have some on the pantry shelf for a good easy meal.
Mexican Bean Soup
3/4 c dry red kidney beans
3/4 c dry pinto beans
2 tbs onion flakes (or one whole onion chopped)
1 tbs parsley flakes
1 tbs chili powder (more or less depending on your tastes, one is more mild-med)
2 tbs chicken bullion powder (or 6 cubes)
2 tsp ground cumin
1 tsp oregano
1/2 c rice
3/4 c small pasta
Any kind of left over roast, browned ground beef, cooked and shredded chicken (or you could just use a large can), sliced sausage, cubed left over brisket. Whatever meat you feel like adding. Add about a pound of whatever it is.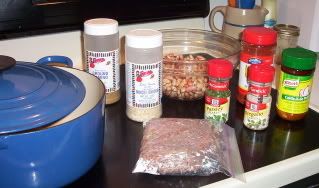 Soak the beans over night. Drain and rinse and set aside. Bring 9 cups of water to a boil in a 5qt stock pot. Add your seasonings and beans.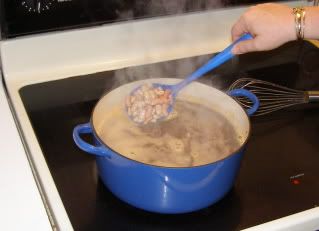 Bring to a boil then turn down to simmer. Cover and let simmer 1 - 1 1/2 hours or until the beans are tender. Once the beans are tender you can add your cooked meat. (I used a pound of lean ground beef, cooked, then drained on paper towels)
At this point, you would bring back to a boil, add your rice, cover and simmer for 15 minutes then add your pasta and cook for another 10 min. This is what you will have in the end. This is from the batch I made last week. I used a jar of roast that I had canned earlier in the summer for the meat that time.
Today, however, I am going to can what I am cooking. Since I am going to can it, I will not be adding the rice and pasta at this point. I will add that later once it's done and we want to open a jar and eat it. I will add a palm full of rice and about the same amount of pasta using the above directions for adding and cooking them.
So, to can it, I gathered my canning equipment.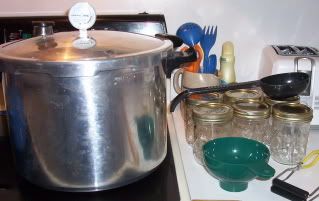 Then once my sterilized jars and tops were heated, I put 2 spoons full (the large spoon I was using to cook with) of the beans and meat into each jar. Then I topped that with 1 1/2 cups of the broth in each jar.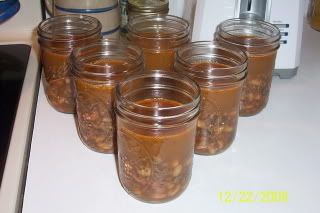 Once the jar tops were cleaned, and the lids on, I processed them at 10lbs for 1 1/2 hours.
Can you hear the pinging? Now I have 6 pints of Mexican Bean Soup in the pantry ready to go when we want it.