When we lived in San Antonio, we had a vegetable garden. We grew tomatoes, green beans, onions and garlic. Since moving back down here, eight years ago, we finally have our first vegetable garden. It is December now so some of the garden is coming to an end and some it just gearing up.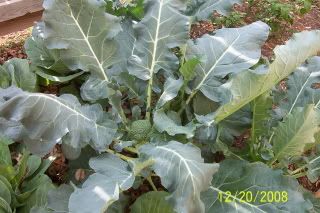 The broccoli is just starting to form and is taking off! It finally got cold enough for it to grow. I was beginning to think we were just going to end up with some really big plants and no heads.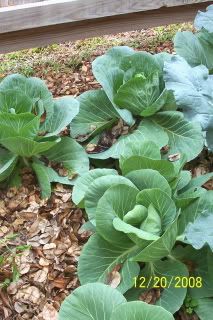 The cabbage heads are also beginning to form. We weren't sure if we were going to get an actual heads this year. It has been so warm. We started getting some cold nights but within days it warms back up to close to 80. Today, is one of those days.
These are my little baby jalepenos. The birds kept getting my plants and just stripping them. They have some flowers and a few peppers are starting to come out but the plants are just tiny and I don't think we are going to get enough to do much with. I hope to get at least a pints worth. Next time we are going to hang some CDs across the tops of the plants to keep the birds away.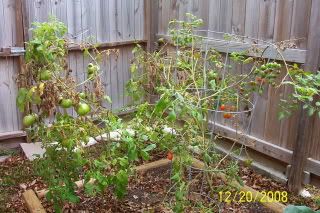 The tomato plants are looking rather sad now. We have had at least 3 or 4 nights of close to freezing temps. We keep watering them and hope with the day temps getting so warm they will be able to go just a little longer.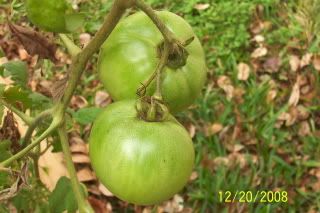 It's hard to tell in the bigger picture of the tomato plants (there are actually 6 plants in that picture LOL) but we still have some decent size tomatoes on the plants. With the warmer day temps, we are hoping to be able to let them ripen on the vines. Keep your fingers crossed!
I picked these today. One Big Boy and some grape tomatoes. The grape tomatoes Blue Girl (my dd) will eat with some ranch dressing and the other tomato, Pool Guy (dh) and I will have on some BLTs tomorrow.
I was really hoping to get enough tomatoes this fall to make at least one canner load of spaghetti sauce but at this point, I'll just take what we can get. What we have gotten so far are so good! Big plans for the spring with at least one more garden hopefully two. I want one garden dedicated to just tomatoes. We'll see though. Our back yard area is split down the middle by the pool. (whoever designed this is a moron!) One side we can't really do much with because the sewer lines and pool lines go diagonally through it (that is where we put up the clothes line) and the other side isn't that big and is well shaded. We'll figure something out.
Here is one of the 3 oranges we got this year. The tree was covered with little oranges this summer. We were thinking we might have to thin some out so they wouldn't weigh down the branches as they grew. Then came hurricane Dolly. It blew off all but a handful of the oranges. After bugs, birds etc. we ended up with 3 that fully ripened to pick. Next year we are hoping to find a spot to add a lime tree to the yard.